[5 Mark & Susan McKay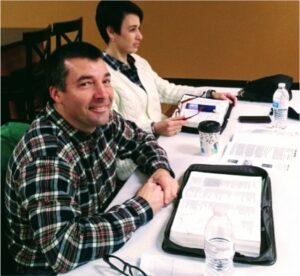 ADULT DISCIPLESHIP CLASS
9:15 – 10:15 in the Kitchen / Fellowship Hall
This Sunday morning class is led by Mark McKay, a seasoned Bible teacher as well as a history teacher in the New Albany Floyd County School system.
Anyone high school graduate age or older is welcome as we seek to deepen our faith and develop new friendships. All you need to bring is your Bible as we look at a variety of topics as well as entire books of the Bible.
For more information, contact Mark McKay at msmckay@outlook.com or call the church office at 812-923-0940>
NEWS & EVENTS
No events currently planned. 
PRAYER REQUEST
Each week we will be taking prayer requests and/or praises and sharing them on this page. 4 weeks shown at a time.
Additional prayer requests and/or praises can be emailed to our church anytime at news@faihpointchurch.org
—–>Hebrews 12: 2 & 3
2  Fix your eyes on Jesus, the Author and Perfecter of our faith, who for the joy set before Him, endured the cross, scorning it's shame, and sat down at the right hand of the throne God!
3 Consider him who endured such opposition from sinful men, so that you will not grow weary and lose heart.
 —–>PSM 119:18   Open my eyes, that I may see wondrous things from your law. [in the Bible]
**PLEASE

PRAY

**

 
NOV 12
Cliff – Son needs prayer for his thyroid problem  Will have an update in 3 months.

Praise for the Growth of our Sunday School Class!

Pray for an un-known person having Chemo this Thursday.

Gina – Pray for Josh!  He is getting a lot better!

Mike – Prayers for his Sister.

Baker – No tumors but he needs prayer for Chemo treatments soon! 

Judy – Rotator cup surgery went very well but requests continual healing!
NOV 19
Debbie – Praise to God for Ted (Brother-in-law) Surgery went well.  Continue to Pray for healing & pain control.  Please pray for my Neice Kay!

Lois – Breast cancer! Also, praise for my Son "Speaking" at FCA!

Judy – Prayers for Eli in Kuwait and his family. Thankful for surgery going well!

Cliff – Pray for his wife, Jeanie's Hand Surgery on Nov 29.

Jeff – Please pray for my wife's [Nikki] Surgery on Nov 30.

Stephanie – Uncle Matt has Multiple Myeloma – needs bone Marrow transplant – kindly pray he comes to a relationship with Christ Jesus!

 
NOV 5
Judy – Continue healing of her shoulder Prayer. Thankful for Prayers – very grateful to everyone in our class and to God!

Cindy – Thankful for  safe AAA man encounter, and blessed by it! Pray for my Brother in Laws Stem cell Transplant – Rosemary & Matt!

Debbie – Pray for her Brothern in Law, Ted, who is having Surgery for Bladder & Prostate on Nov 9th.

Nolan – His friends got Married outside of the Church & he asks for Prayer that Lauren & Jacob would come to Christ!

Doug & Janet – Please Pray for safe travels to Florida.

Gina – Continued Prayers for Josh!
NOV 26
Doug – A 9 yr old with suspected abuse, needs Prayer!  -Praise God- a neiboers house has been renovated by volunteers.  Please pray for Doug,  as he travels to Wash. D.C.

Judy – Pray for Eli Stumbler who is in Kuwait, for his safety!

Jeff – Pray for Nikki's surgery on Thursday-hysterectoring. Might be out of work for 9 weeks?

Kim – 2 prayer requests: Stepfather' surgery on his nose next week, to breath easier.  Mom, is sick too, Pray for a quick recovery!

Claudia – Prayer for a family member, Palmer [nephew] with RSV in Hospital.

Brian – Pray for Roger, a 2 month old, with breathing issues.  We praise God  is home!
---
Click Photo's to 

ENLARGE.
---