[5 Mark & Susan McKay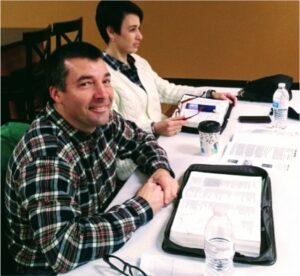 ADULT DISCIPLESHIP CLASS
9:15 – 10:15 in the Kitchen / Fellowship Hall
This Sunday morning class is led by Mark McKay, a seasoned Bible teacher as well as a history teacher in the New Albany Floyd County School system.
Anyone high school graduate age or older is welcome as we seek to deepen our faith and develop new friendships. All you need to bring is your Bible as we look at a variety of topics as well as entire books of the Bible.
For more information, contact Mark McKay at msmckay@outlook.com or call the church office at 812-923-0940.
NEWS & EVENTS
No events currently planned. 
PRAYER REQUEST
Each week we will be taking prayer requests and/or praises and sharing them on this page. 4 weeks shown at a time.
Additional prayer requests and/or praises can be emailed to our church anytime at news@faihpointchurch.org
3 Consider him who endured such opposition from sinners, so that you will not grow weary and lose heart.
 —–>PSM 119:18   Open my eyes, that I may see wondrous things from your law. [in the Bible]
**PLEASE

PRAY

**

 
MAY 28
Pray for Mike Curry. His cancer has moved to his lungs! Also, Pray for Judy during this trial & difficult time!

Pray for Cindy's Sister & her Husband need prayers to know Christ as Savior. (Rosemerry & Matt) Matt was diagnosed with Cancer.

Pray for Venetta & Lenne as they are caring for her sister-in-law.

Pray for Cliff – 80 year old"s sister, just broke her hip yesterday (Florence).

Pray for J.D. for safe travels home.

Pray for Marks Dad, as he is moving to Silvercrest!

Pray or Doug's Employee and family.

Joni took over a family farm, plus her Grandmother has dementia!

Julie & Mike are selling their home now. Please pray!

Praise, for a baby, Stephanie helping deliver that child.

Kathy's son's father-in-law, has cancer. Please pray!

Pray for Ted Elsesser has bladder cancer and  needs prayer! He will have several surgeries soon.

Pray for Cindy & Vicki, Jeff Liddle's Aunts, both have Cancer. Please pray!
MAY 14
Continued prayers for Susan's Mom & Dad (Bill & Janet).

Continued Prayers for Mike Cury. He's extremely weak. Please Pray for Judy too.

Mark's Dad is moving to New Albany. (Silvercrest)

Pray for healing of Doug's wife Janet, who's back went out!

Jim Hodge needs prayer as he was Diagnosed with Alzheimer's! (Doug's friend)

Cynthiana's Bro-in-Law, has been diagnosed with bone diseased & need Prayer !  He has several broken bones!

Pray for Josh (Gina's son). He is struggling but doing better. Thankyou Mom's!

Doug's neibor, Hoston, is doing well now! Praise God! He is 5 years old!

Doug's board member, Jerry, has several health issues.

Please pray for Nathan Ornsby; He need lung transplants!
MAY 7
Continued prayers for Susans Mom & Dad!

Pray for Jeff's Aunt Cindy. She has breast Cancer. She will have 12 weeks of chemo and 12 weeks of radiation treatments!

Pray for Jeff & Nikki's daughter, Sydney, as she heals from a shin injury from Track!

Pray for Brenda (Patty's Sister) as she is going thru Chemo and Radiation for a brain tumor!

Julia, one of Katlyn's Students, has brain cancer. She is only 1 year old.

Pray for Mike Cury, for skin cancer Treatments. (5 to 6 more days of Radiation).
MAY 21
Praise God for Doug & Janet, 24th Anniversary! [Put God in the center of everything you do]

Pray for Mike Curry – Low energy and weakness.

Pray for Susan Mckay's Mom and Dad during this stressful time of healing. Her Mom, Janet,  is doing better.

Bobbie Yasle (Aunt) – has cancer. [Alisha & Toby]

Pray for JD  McKay. He leaves June 10. Also, Josh for CST Training.

Please pray for NOAH Drake. He has a hip issue and will have a MRI on Monday.

Ted Elsesser's Bro-in-law, has bladder cancer. Having a scope this week. Please pray.

Pray for Teachers and students, for the end of School Year!
---
Click Photo's to 

ENLARGE.
---