[5 Mark & Susan McKay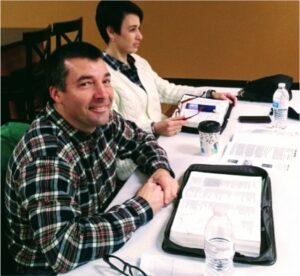 ADULT DISCIPLESHIP CLASS
9:15 – 10:15 in the Kitchen / Fellowship Hall
This Sunday morning class is led by Mark McKay, a seasoned Bible teacher as well as a history teacher in the New Albany Floyd County School system.
Anyone high school graduate age or older is welcome as we seek to deepen our faith and develop new friendships. All you need to bring is your Bible as we look at a variety of topics as well as entire books of the Bible.
For more information, contact Mark McKay at msmckay@outlook.com or call the church office at 812-923-0940.
NEWS & EVENTS
No events currently planned. 
PRAYER REQUEST
Each week we will be taking prayer requests and/or praises and sharing them on this page. 4 weeks shown  at a time
Additional prayer requests and/or praises can be emailed to our church anytime at news@faihpointchurch.org
3 Consider him who endured such opposition from sinners, so that you will not grow weary and lose heart.
 —–>PSM 119:18   Open my eyes, that I may see wondrous things from your law. [in the Bible]
       **PLEASE PRAY** 
JAN 8
Pray for Josh – Continue prayers as he is being mentored by Sam [sponsored] at SouthEast.

Pray for College students that are begining Spring Semester. Pray for safe travels and for them to grow in their relationship with Christ!

Pray for Susan's Mom with MAC Disease. [Back issue)

Mike and Julie are searching for a home. Pray for their search and possible offer.

Praise – Bill got the tree removed from his yard.
JAN 22
Continue praying for Susan's Mom, MAC Disease, (in Hospital)

Gina – Had a rough week. Pray for her.

Susan – Has "observations" this week. Pray for her that it goes well.

Scott Ham – Had Pancreatic Cancer surgery. Is in recovery – continued prayers.

Alekis (Josh's sister) pregnancy is going well. Continued Praying.

Dereg's wife Has had dizziness. Prayer for healing.

Mike had a blood clot in his arm, but it is dissolving.

Mike's Dad (Charles) is in the Hospital.

Judy's Sister with Hip replacement is in recovery facility for 6 weeks. Prayer needed!
JAN 15
Pray for Venetta's Back Problem.

Josh – Pray for complication free for my sister, Alexis, for her pregnacy.

A friend of Doug Drake, Scot Ham, has Pancreatic Cancer.

Doug Drake – Employers growth with his (Jacob's) faith in Christ.

Pray for Susan's Mom with MAC desease. Pray for healing as she is taking medication.

Pray for Stephanie's Mom, Cindy.

Sharon – Pray for a friend (Social worker) that is growing  her relationship with Christ.

Gerald – Please pray for a friend.

Castleman – 3 year old, is having surgery soon. Please pray!
JAN 29
Alexis – Josh's sister, will be giving birth soon.

Susan Mckay's parents need prayer for their health conditions.

Pray for Mike C. for healing. (Many health issues)

Pray for Gina's son, Josh!

Pray for Kim and Ed S.

---

Click Photo's to 

ENLARGE.

 

---